Sinpo International Market
Sinpo International Market
Incheon's representative market where history, tradition and culture coexist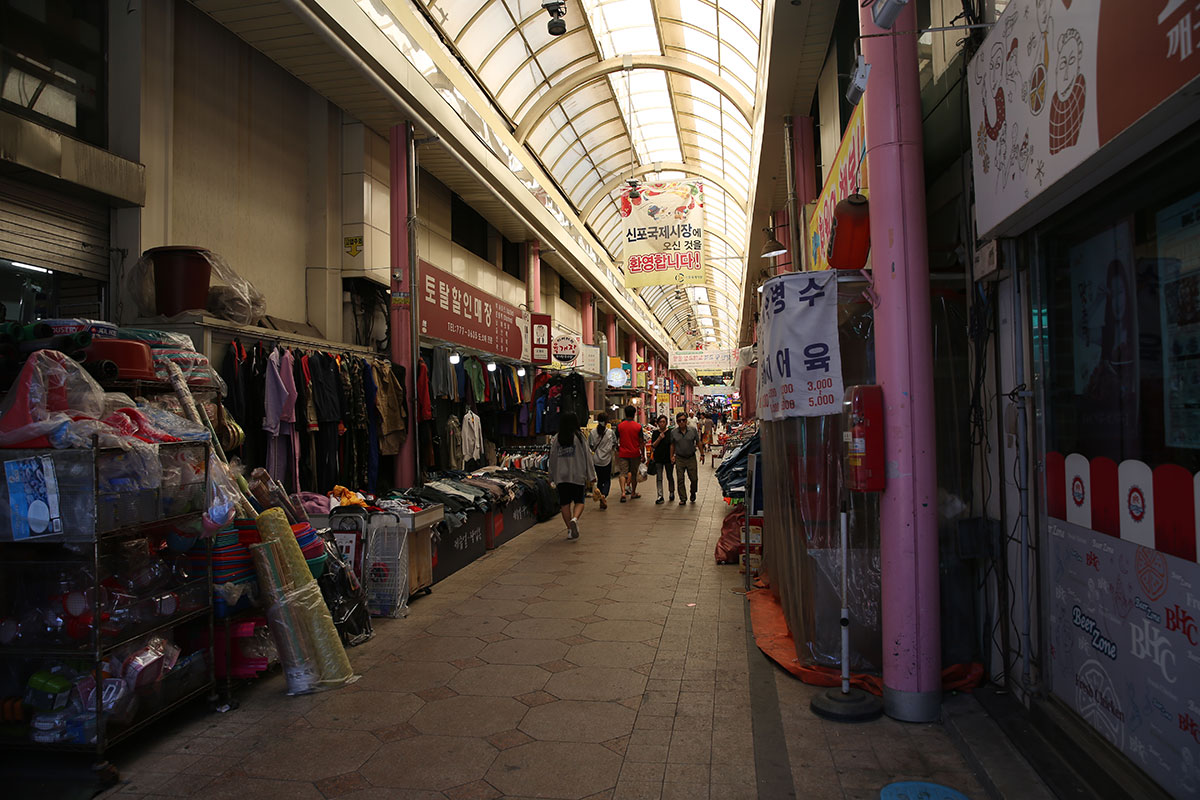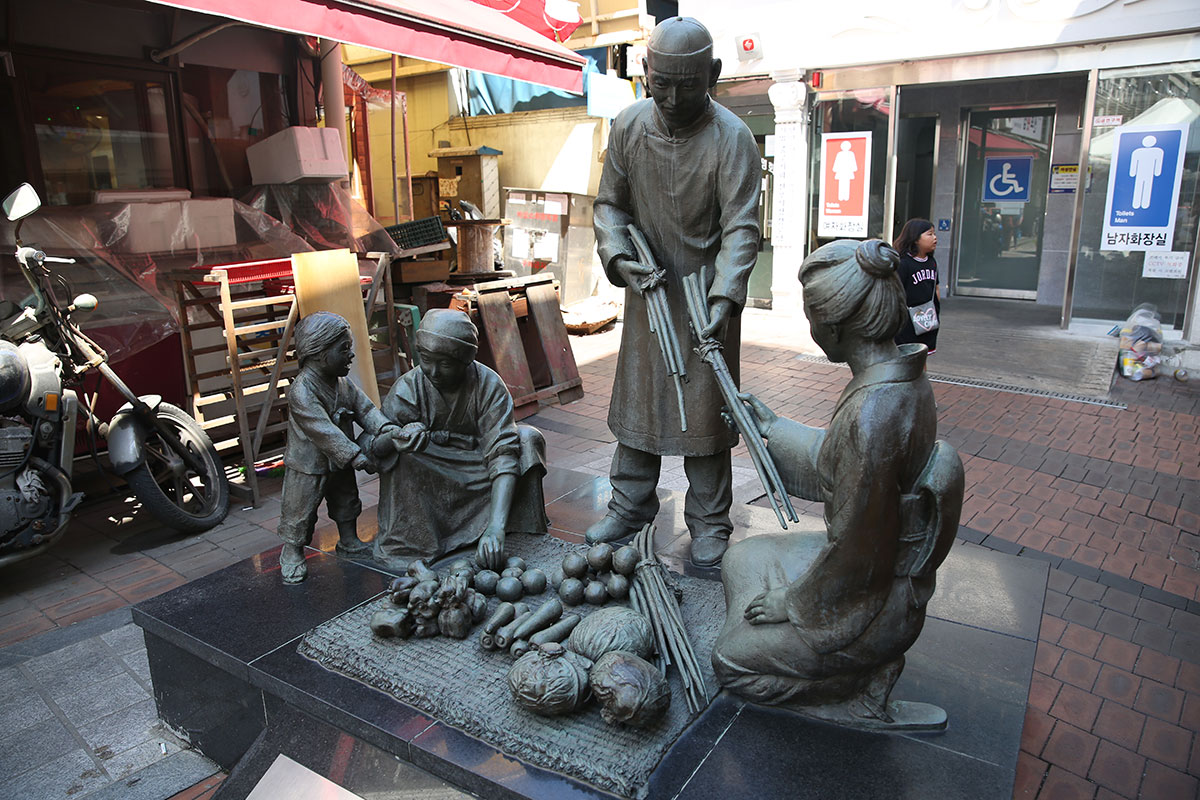 From Teojingae to Sinpo International Market
Sinpo International Market is Incheon's first modern permanent market with a history of more than 100 years. Before the opening of the port, it was called 'Teojingae', and after the port was opened, it was called 'Sinpo', which means 'new port', aname that continues to this day.
In 2010, it was renamed from 'Sinpo Market' to 'Sinpo International Market'.
Looking at the sculptures of the vegetable market located in the shelters within the market, you can get a feel of what the market area must have looked like at the end of the 19th century.
In the vegetables and greenery section, there used to be about 20 vegetables stores where mainly Chinese farmers sold onions, carrots, tomatoes, bell peppers and more to Japanese customers.
In addition to the greenery section, there is a fish market, in which previously established merchants and Japanese merchants competed.
Over time, it grew into the shape and likes of a huge market. After the opening of the port, the market went through difficult times such as Japanese colonial rule and the Korean War, but then established itself as the representative traditional marketof Incheon.
Additionally, the Korea Tourism Organization selected it as a good traditional market for foreigners to visit, being recognized for both its historical and cultural value.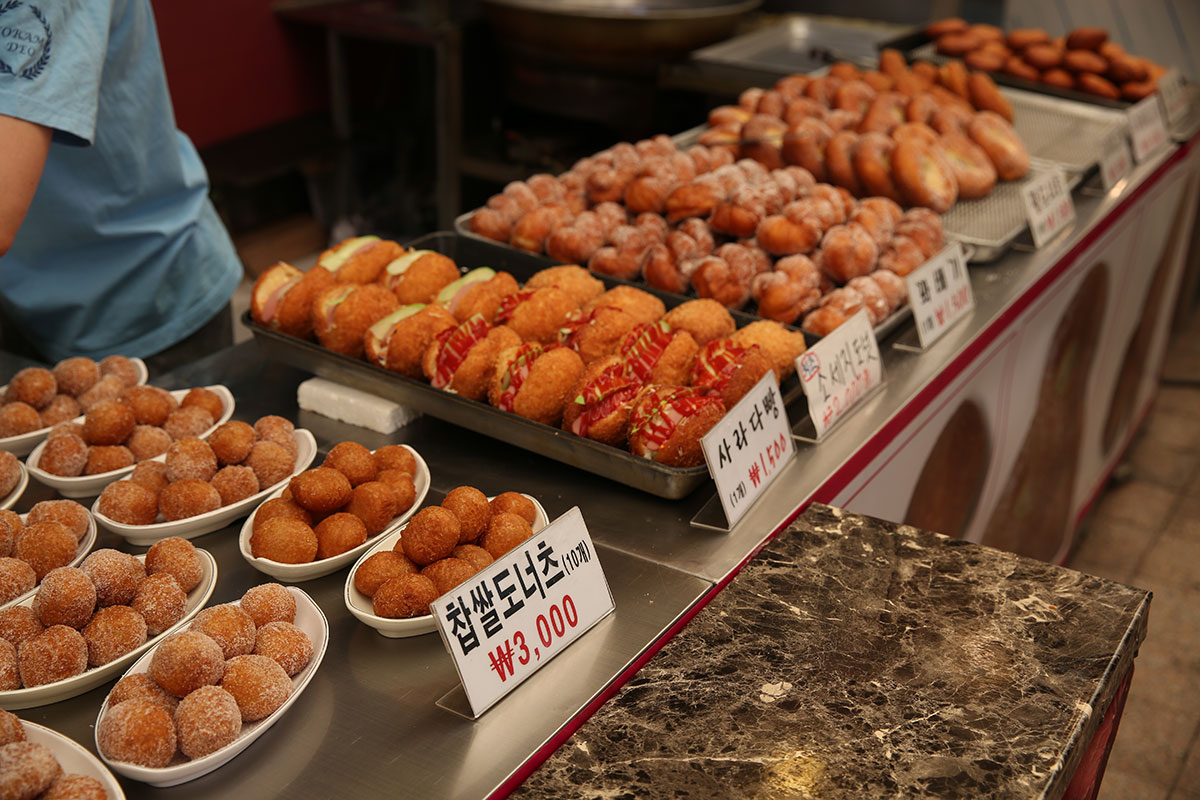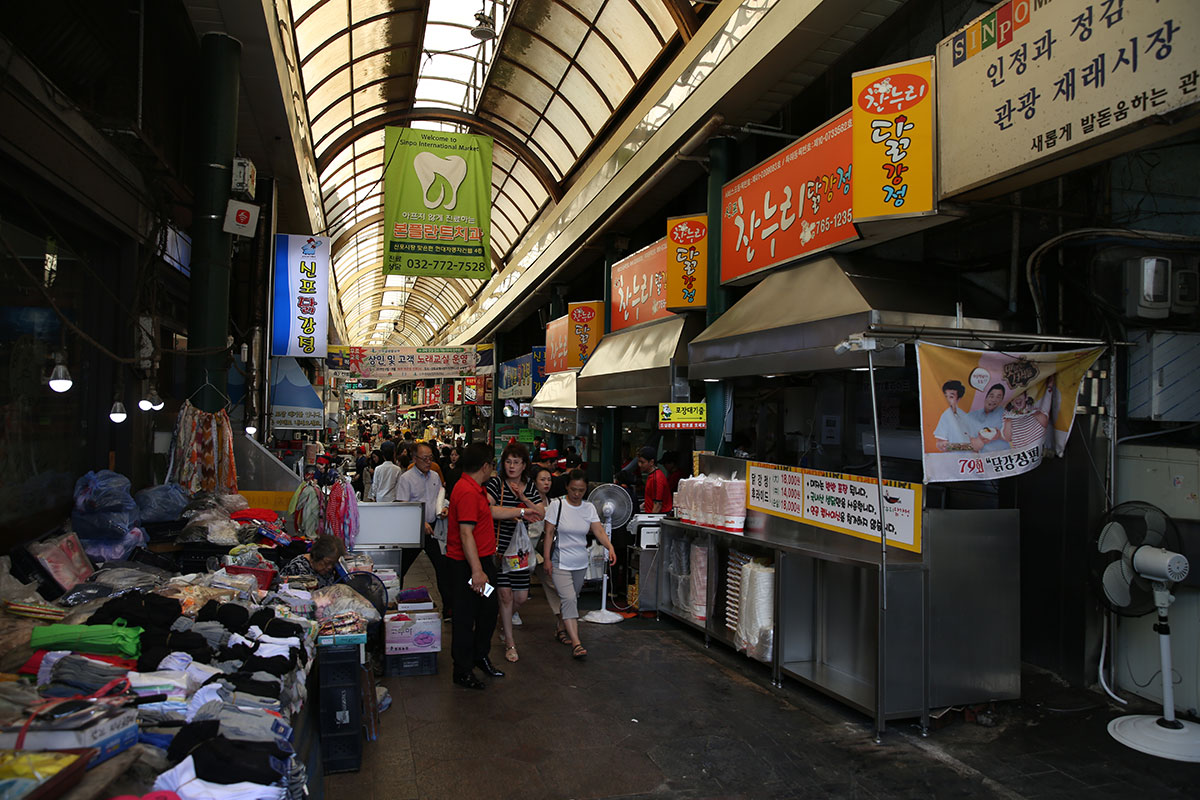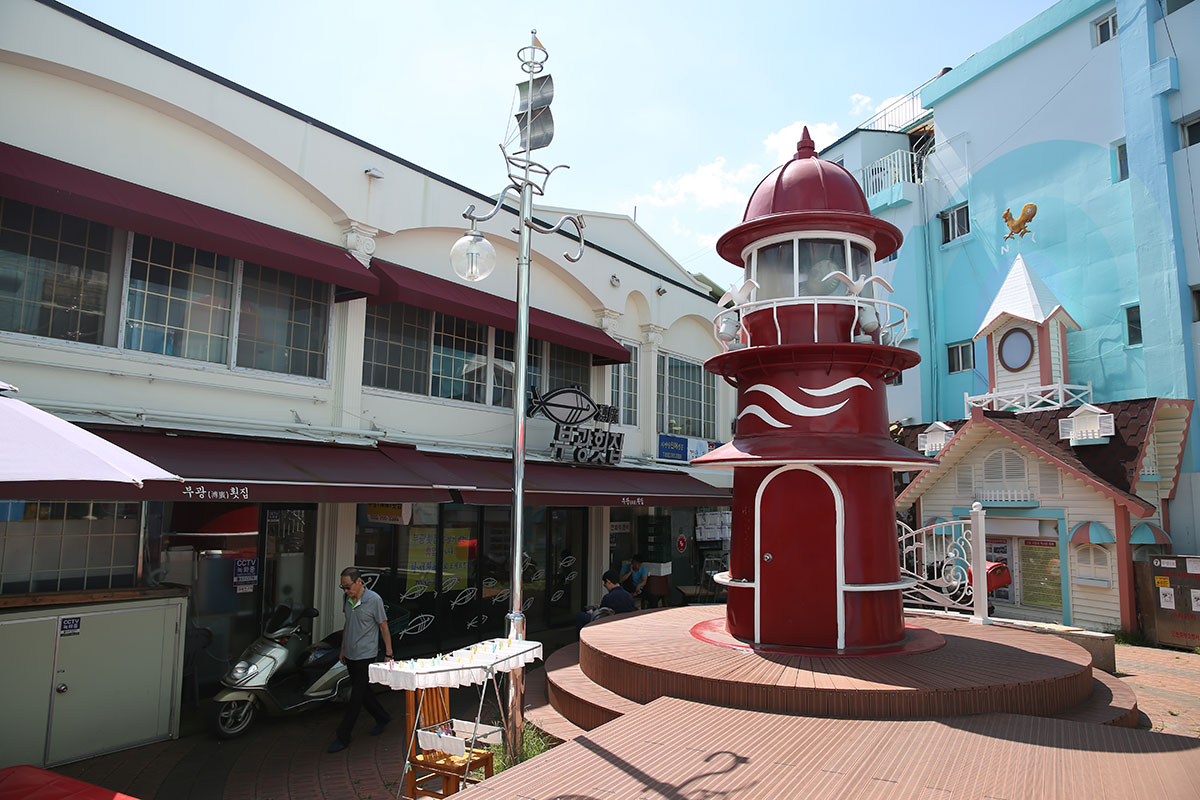 Going through the alleys
Sinpo International Market has several entrances, and the stores are divided into areas according to various categories.
It is efficient to use the map and check the locations of multicultural food alleys, repair alleys, fish alleys, noodles alleys, Youth Mall, Snowflake Village, and more.
There are many restaurants for tourists, but it also sells a variety of goods and side dishes, making it a representative tourist destination in Incheon and a traditional market frequented by locals. As you walk through the alleys, you can find sashimistores and chicken stores that help you reminisce past fish markets and chicken markets.
In the sashi store alley, there is a Lighthouse Park that has a red lighthouse. Sinpo International Market's Lighthouse Park is the only park in the country located in a traditional market.
It is a place with a sea theme and a lighthouse, and is great for taking commemorative photos. Youth Mall and Snowflake Village also have photo zones with snow and winter themes, so it is a good place to take commemorative photos.
Delicious representative food
At Sinpo International Market, you can enjoy a variety of foods such as sweet and sour chicken, gongalbbang (bubble bread), five-colored dumplings, and jjolmyeon (spicy cold chewy noodles), and more.
Sweet and sour chicken found at the entrance of the market is the representative dish of Sinpo International Market. There is always a line of people waiting to try the delicious combination of freshly fried chicken layered with special sauce madewith starch syrup and cheongyang red pepper.
Gongalbbang (bubble bread) and dumplings are also popular dishes of Sinpo International Market. Gongalbbang (bubble bread) is a sweet snack freshly baked from the oven and is crispy on the outside while chewy on the inside.
Jjolmyeon (spicy cold chewy noodles) is a food that was accidentally created in a noodle mill in Incheon in the early 1970s. The thick, chewy noodles mixed with red pepper paste sauce are still loved by many people, and you can taste the original jjolmyeonhere.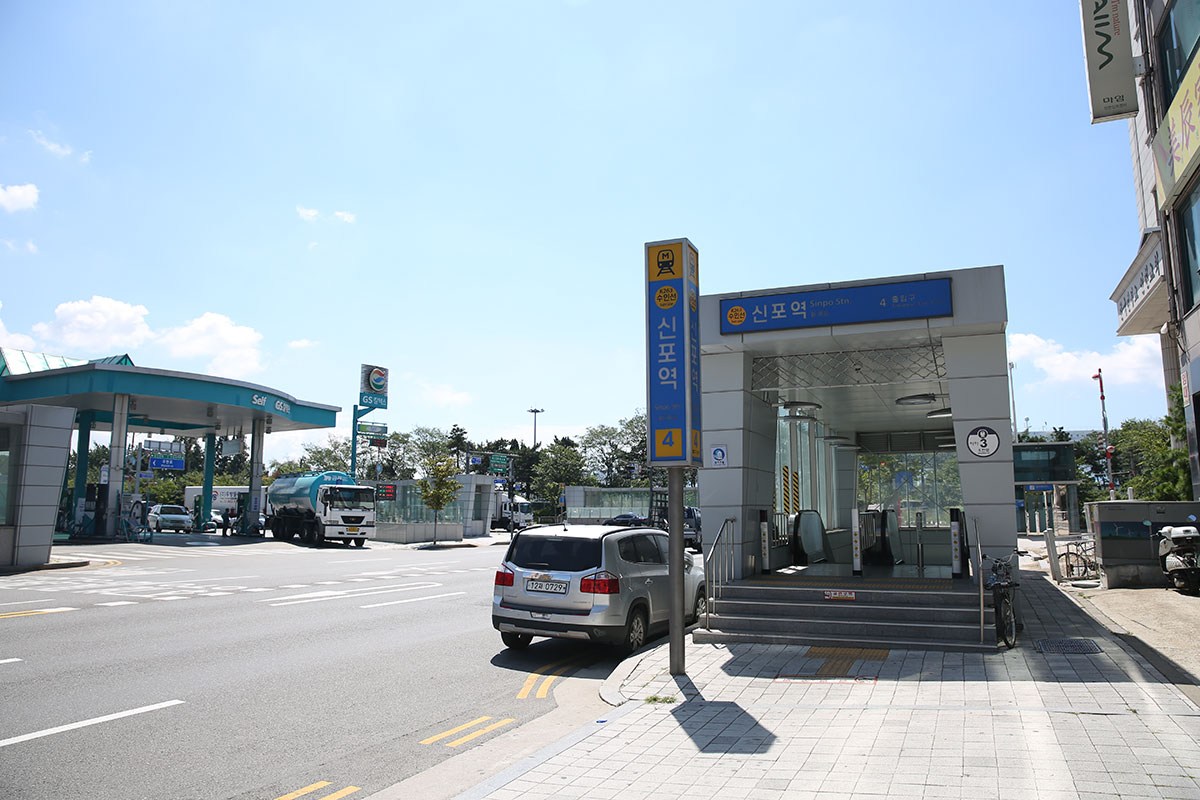 Nearby tourist attractions and Stamp Tour
There are many tourist attractions such as Freedom Park, Dapdong Cathedral, Hongyemun Gate, and Chinatown near Sinpo International Market, so it is great to plan a course and explore.
If you are a family with children, you can take a look at the 5 'Gaehwa Walk Stamp Tour' stops at Sinpo International Market (Trick Art Story-Jajangmyeon (black bean noodles) Museum-Incheon Open Port Museum- Snowflake Village-Sinpo International MarketSupport Center). If you travel according to the Gaehwa Walk Stamp Tour Course and get stamps on the leaflet, you can collect a prize at the Sinpo International Market Support Center, the last stop. You can visit the Sinpo International Market by publictransportation.
Since Sinpo Station on the Suin Line and Incheon Station on Line 1 are located nearby, it is easy to access by public transportation, and you can also get to Dongincheon Station through the Sinpo Underground Shopping Center.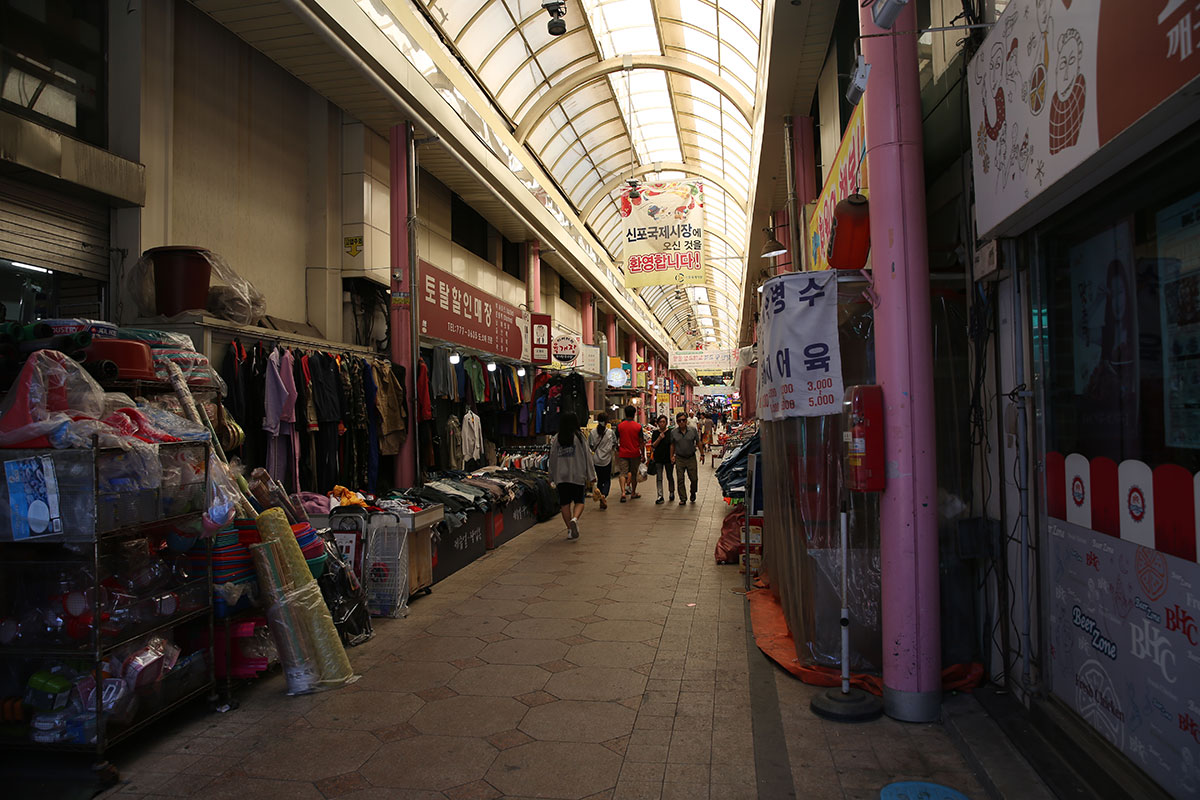 Location

11-5, Uhyeon-ro 49beon-gil, Jung-gu, Incheon
Transportation

10 minutes walk from Dongincheon Station (Line 1), 10 minutes walk from Sinpo Station (Suin Line)
More Info

032)764-0407