City-Designated Cultural Properties
City-Designated Cultural Properties
994
Introducing the cultural properties designated by Incheon Metropolitan City among various cultural heritage in Jung-gu
Boundary Stairway of Qing and Japanese Settlements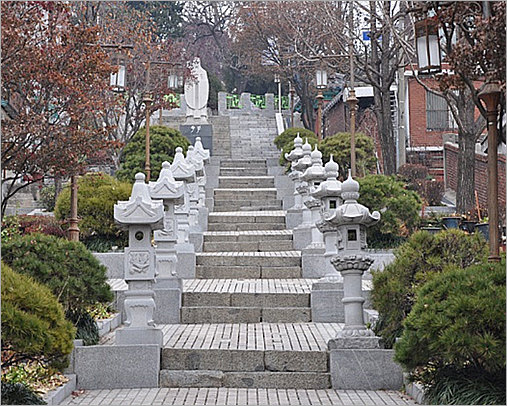 After the opening of Incheon Port in 1883, Qing China and Japan established settlements in Korea in Incheon in 1883 and 1884, respectively.
The stairway connects to Manguk Park (today's Jayu Park).
The area has very unique atmosphere, with Chinese-style and Japanese-style buildings on either side of the stairway, centered on the steep slope of the southwestern side of Jayu Park.
The steep sloping stairways and stone stairways give a view down on the coast of Incheon.
information table: Designation No., Period, Location, Date of Designation

| Designation No. | Year of Creation | Location | Date of Designation |
| --- | --- | --- | --- |
| Incheon Metropolitan City Monument No. 51 | 1884 | 58-1, Seollin-dong, Jung-gu, Incheon | Dec. 23, 2002 |